The following women: - Martine Ndaya Nabote, Dorcas Drucille Mushiya, Godelive Tshombo and Audreille Dimwangala wa Katshumba banded together and created this organization after having realized the considerable lack of humanitarian aid and representation for the girls and women of Congo. From the beginning until this present day there are many difficulties that face us, for we do not just seek to just bandaged the wounds of female victims but we wish to stop the violence all together by changing the mindset of our culture to consider women as equal and deserving of the most basic human rights. From there we wish to persuade our government to support our pleas for change. However, even then we face obstacles, for if our government heard our entreaties, it itself is weak and drained of resources from the continual attacks from our neighbouring countries. It for this reason we need help from people all over the world. It is our belief that the disempowering of the entire female sex only contributes to the weakening of the crippled legs Congo stands on. If we can empower the Congolese woman, we will also strengthen the foundation for the entire country of Congo, and so in a sense we seek for the redemption of all our people.
It may be hard to imagine in many modern societies around the world where so much progress has been made towards the equality of race and sex that misogynistic cultures still exist. Yet in the Democratic Republic of Congo, the woman is still considered to be an object of little value, and her place remains as a slave in the home and/or in the field. The Congolese female perspective is silenced, or is drowned by violence, and thence she has no voice and no representative to petition for her rights. It is our mission to bring this voice to Congolese woman. Weintend to bring the life situation of the Congolese woman to the collective awareness of her people. To show who the woman is and what she is capable of. To show how to protect her and address her needs. More importantly we seek to show women themselves how to recognize their own capabilities and how to claim their position as an equal member of society. We wish to show women that they have the power to put an end to the exploitation of her sex, and stand against the discrimination and domination from the ruling opposite sex. Thus from this collective hope and mission we have created the C.E.F.F. in honour of the fierce and mighty women of Congo. We hope that you may join us in our cause, and that we may togetherfight for those who do not have the strength.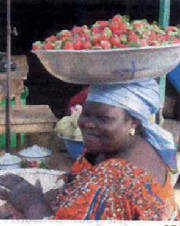 She must walk hundreds of meters per day in order to feed her children and family. Currently there are some women who have begun to support themselves and their families by opening a small business after vocational training.
For those who honour the majesty of the Lord, there are two gardens, each planted with trees which give shade. Which of the Lord's blessings would you deny? Each garden is watered by a spring which constantly flows. Which of the Lord's blessings would you deny? Each garden contains a pair of every kind of tree; so there is every kind of fruit. Which of the Lord's blessings would youdeny?
(Hotchkiss